Come for the Workshop: Stay for the Weekend! Make your own Retreat.
What could be more fun than finishing something you are writing? A Discussion of Craft! Yet, so many writer's workshops and conferences throw you by smothering you with information. You end up overwhelmed and tired. Instead, relax with other writers, go deeper into one specific element of Craft that is related to where you currently are in your writing, and discover how to unwind before you start writing.
Optimal Learning requires and Environment that supports YOUR Process.
WRITE FROM A DEEPER PLACE
The format for each fiction workshop. The medium of this transformative process allows you to access your own creativity. It is based on the FELDENKRAIS© Method, which allows you to release tension before you start. Empty the mind, rediscover the path of least resistance to inspiration. Each workshop starts with an in-depth look at a specific element of the Craft of Fiction Writing, followed by an interlude of mindful movements that release tension and mental worry. Then, you will find you write from a space that invites the muse to interact with long-lost inspirations, and gives rise to new ideas that are in complete alignment with where you want to take your work…
Feldenkrais Creativity Workshop for Writers: Topic #4 Chapter Structure
A story is like a Russian Doll with smaller stories nestled within each chapter: if these subtle storylines are not present, it's perhaps a fairytale or a myth. Yet, even the epic mythical tales of Homer have subsets of story nestled within a larger story arc. In a short story, as in the chapter of a novel, a scene begins and ends when some aspect of the cast of characters is either diminished or augmented.
Yet, the chapters must give relatively equal weight and length to each perspective they provide. To select what to include and what to leave out is the challenge of every beginning novelist, and often beginners actually spell out too much, when to allow developments to unfold entices the reader more thoroughly. The complete freedom of fiction can be overwhelming. Join us for a closer look at how to use these elements, with awareness of their potential impact. Learn to use them to provide a sort of compression chamber that has the potential power to make the story take off, like rockets in the sky. In this workshop, look at scenes versus chapters. See what they say back to you. It is not the answer to a problem but does require some inevitable resolution. How does this apply to your work in progress?
Sat., May 4th, 2019, 2-5 pm 235 W. Main St. Jacksonville, OR $15/Online or $30/Door
The Feldenkrais Creativity Workshop for Writers: Topic #1 Find YOUR Ideal Process
Discover your optimal process for entering into the mind of your story. To ready yourself, read "The Craft of Writing, by William Sloane in advance. Experimenting with your process is a way to open yourself up to new possibilities," writes Grant Faulkner of NaNoWriMo. If writing is about generating the atmosphere of a specific time and place, how enter the atmosphere of YOUR story? In this workshop, first engage in a short movement lesson that frees you of tension, which blocks creativity, and then move into clarity about what works for YOU in your writing. For every writer this is different. In this workshop, we focus on the aspect of craft that allows you to intentionally enter into the process of writing YOUR story until the momentum it gains cannot be ignored. Discover new resources to keep your writing active and vibrant long after the ink on the page of this moment has dried…
Sat., June 1, 2019, 2-5 pm Your Life Matters, 235 W. Main St. Jacksonville OR $15/Online or $30/Door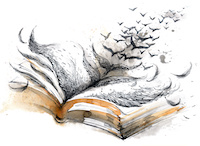 Feldenkrais Creativity Workshop for Writers: Topic #2 Perspective & Point of view
As in art, so in fiction. Perspective is everything. It changes what's true.
Think of the change in consciousness brought about by the Renaissance painters who discovered how to render an image in 3D. In the same way, the novel only came into pre-eminence once humanity discovered that there is, perhaps, no absolute truth. Two people can come at the same experience from different perspectives and see the same incident in entirely different ways. They then, in some situations, such as war, are willing to bank everything on their perception. In this workshop, we focus on the aspect of craft that defines the Point of View Character vs. the Agonist, be it within the personality or without…
Expanded Topic & Date TBA